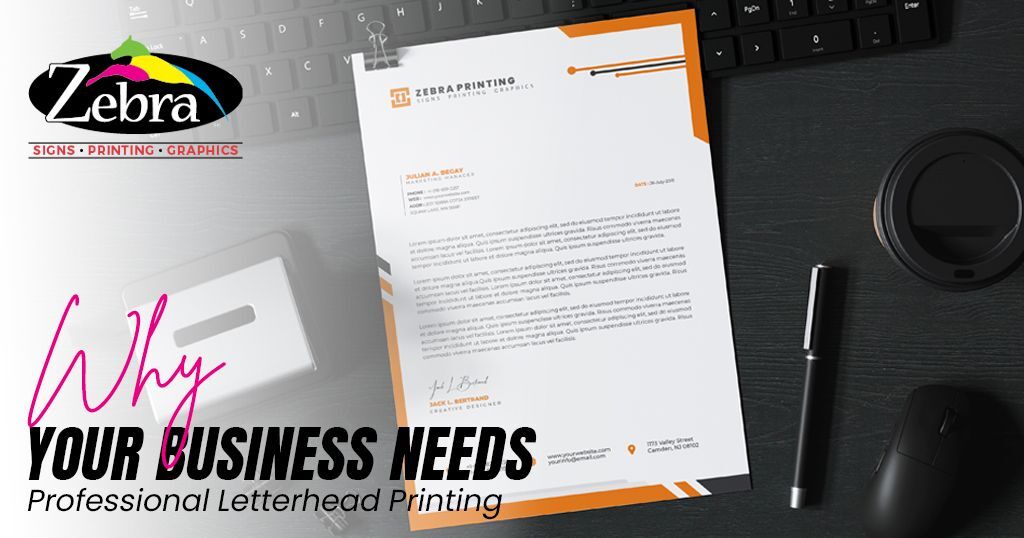 In the digital age, where emails and text messages dominate communication, the tangible aspects of business can sometimes be overlooked. However, one traditional element that should always be considered is professional letterhead printing. Whether you're a small startup or a well-established corporation, having a well-designed letterhead can significantly impact your brand image and communication effectiveness.
The Power of a Well-Crafted Letterhead
A letterhead is more than just a piece of stationery with your company's name. It's a representation of your brand identity and professionalism. Here's why your business needs professional letterhead printing:
1. First Impressions Matter
When you send a letter, invoice, or any official document to clients, partners, or stakeholders, they first see your letterhead. A well-crafted paper exudes professionalism and credibility, instantly setting a positive tone for the recipient.
2. Brand Consistency
Consistency in branding is vital for building Trust and recognition. A professionally designed letterhead ensures that communication from your office aligns with your brand's colors, fonts, and overall style, reinforcing your brand identity.
3. Establishing Trust
In the business world, Trust is a currency that can be hard to earn and easy to lose. A polished letterhead conveys that your business is reliable, detail-oriented, and takes itself seriously. This Trust can go a long way in establishing and maintaining fruitful business relationships.
4. Legal and Official Documents
A well-designed letterhead authenticates legal and official documents like contracts, agreements, and notices. It clarifies that the document is from your company, reducing the likelihood of misunderstandings or disputes.
5. Personal Touch
Professional letterhead printing lets you incorporate personal touches like your company's logo, contact details, and a personalized message or slogan. This makes your correspondence more engaging and memorable.
6. Marketing Opportunities
Letterhead isn't limited to just letters. You can use it for various marketing purposes, including special offers, upcoming events, or new product launches. This turns your routine correspondence into a subtle marketing tool.
Beyond Letterhead: Other Printing Needs
While letterhead printing is crucial, don't overlook other printing needs that can enhance your business's image and communication:
1. Booklet Printing
Booklets are versatile tools for presenting information about your products, services, or company comprehensively and visually appealingly. Professionally printed booklets can leave a lasting impression on potential clients and partners.
2. Letterhead Printing Company
Choosing the right printing company for your letterheads is essential. Look for a company that offers high-quality printing, a variety of paper stocks, and customizable design options to match your brand perfectly.
3. Greeting Cards Printing Services
Sending personalized greeting cards to clients during special occasions or holidays is a thoughtful way to show appreciation and strengthen business relationships. Greeting card printing services can help you create custom cards that stand out.
Choosing the Right Printing Partner
Now that we've emphasized the importance of professional printing for your business, let's discuss choosing the right printing partner for your needs.
Quality Matters: Look for a printing company that prioritizes quality. They should use high-quality paper and printing techniques to ensure your materials look and feel exceptional. Ask for samples to assess the quality of their work.
Customization Options: Every business is unique, so your printing partner should offer customization options. This includes incorporating your branding elements, selecting paper types, and choosing from finishing options like embossing or foil stamping.
Design Assistance: If you need to become a design expert, consider a printing company that provides design services or templates to help you create eye-catching materials. They should be able to work closely with you to bring your vision to life.
Timely Delivery: Punctuality is crucial, especially for time-sensitive projects. Ensure the printing company has a track record of delivering orders on time. Delivery can disrupt your plans and damage your reputation.
Eco-Friendly Options: In today's environmentally conscious world, opting for an eco-friendly printing company can demonstrate your commitment to sustainability.
Customer Reviews and Recommendations: Check online reviews and seek recommendations from other businesses or colleagues who have used similar services. A company with a strong reputation is more likely to meet your expectations.
Cost Transparency: Understand the pricing structure and ensure no hidden fees. Request a detailed quote for your specific project to avoid surprises.
Communication and Customer Support: Effective communication is vital when working with a printing partner. Ensure they are responsive to your inquiries and provide excellent customer support throughout the printing process.
Conclusion
Investing in professional letterhead printing, booklet printing, and greeting card printing services in a world saturated with digital communication can set your business apart. These tangible materials convey professionalism and provide opportunities for branding, marketing, and building trust.
Remember that the quality of your printed materials reflects directly on your brand. Therefore, choose your printing partner wisely, considering factors like quality, customization options, design assistance, reliability, and environmental responsibility.
By making informed choices and investing in professional printing services, your business can leave a lasting impression on clients, partners, and stakeholders, ultimately contributing to your success and growth.