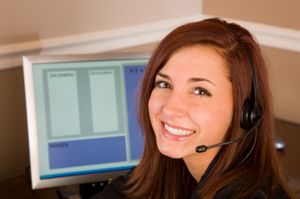 We look for many qualities in the individuals we hire -- the ability to communicate effectively, a high level of organization, strong interpersonal skills, and so on.
Regardless of an applicant's qualifications, we always look for one attribute in particular -- the desire to provide high quality products with excellent customer service. We can train people how to work with clients or run pieces of equipment, but to have passion for customer service and pride for your work takes a unique individual.
If these are qualities you possess, we're sure you'll find a rewarding career with us. We supply our team with the latest technology, afford them the best training available, and provide every opportunity for growth within our company.
Current Openings
Customer Service Representative (CSR)
Who We Are
Here at Zebra, we are a full service commercial printing, digital imaging and mailing service provider. We are a local family owned business, serving the East-side with full-service custom printing for over 30 years. Zebra Printing first opened their door in 1986 and had move locations twice in the city of Bellevue. We are currently serving our customer on the South corner of 130th Ave and Northup Way in Bellevue, Washington.
We currently have an opening for a Customer Service Representative (CSR).
What You Will Do
Open and maintain customer accounts by recording account information
Resolve product or service problems by clarifying the customer's complaint; determining the cause of the problem; selecting and explaining the best solution to solve the problem; expediting correction or adjustment; following up to ensure resolution
Maintain financial accounts by processing customer adjustments
Recommend potential products or services to management by collecting customer information and analyzing customer needs
Prepare product or service reports by collecting and analyzing customer information
Contribute to team effort by accomplishing related results as needed
Manage incoming calls
Identify and assess customers' needs to achieve satisfaction
Build sustainable relationships of trust through open and interactive communication
Handle complaints, provide appropriate solutions and alternatives within the time limits and follow up to ensure a solution
Follow communication procedures, guidelines and policies
Go the extra mile to engage customers
Resolve customer complaints via phone, email, mail or social media
Assist with placement of orders, refunds, or exchanges
Take & process payment information and other pertinent information such as addresses and phone numbers
Place or cancel orders
Answer questions about warranties or terms of sale
Inform customer of deals and promotions
Maintain long-term consultative relationship with clients for repeat business.
Focus on results and maintain a strong work ethic.
Be highly organized and detail oriented with professional presentation ability.
What You Bring
Represent the company in the local community in a positive and professional manner.
Excellent oral and written communication and negotiation skills.
High degree of integrity, initiative, professionalism, and respect for maintaining confidential information.
Ability to prioritize work, coordinate multiple projects, keep accurate records, and work in a fast-paced environment.
Effective team player able to work across the organization to get things done.
Continually thinks of ways to improve department efficiency and effectiveness