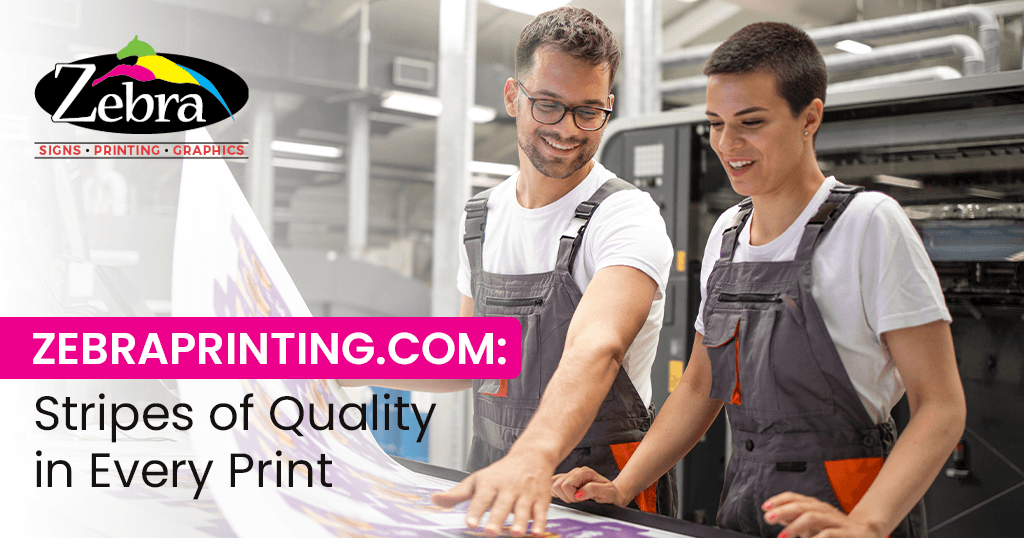 Introduction
In today's fast-paced business world, making a lasting impression is essential to stand out. ZebraPrinting.com, a premier digital printing company and Bellevue print shop, understands the importance of impeccable printing when leaving a mark. With a commitment to excellence, ZebraPrinting.com offers a wide range of services, including expertly embossed business cards. In this article, we'll delve into how ZebraPrinting.com has become synonymous with quality, professionalism, and innovation in the printing industry.
Unveiling ZebraPrinting.com
ZebraPrinting.com has positioned itself as a leader in the digital printing realm. With a keen focus on precision and detail, the company has earned a reputation for producing prints of unparalleled quality. The name "ZebraPrinting.com," evokes a sense of uniqueness and distinction, setting the tone for what the company stands for – delivering exceptional prints that are as distinctive as a zebra's stripes.
The Digital Printing Advantage
In an era where technology reigns supreme, digital printing has revolutionized the printing landscape. ZebraPrinting.com harnesses the power of digital printing to offer swift turnaround times without compromising on quality. This technology lets customers realize their printing projects with vivid colors, sharp details, and accurate finishes. From promotional materials to personalized items, the possibilities are virtually limitless.
Elevating Business Cards with Embossing
Business cards are more than contact information; they represent one's brand and identity. ZebraPrinting.com takes business cards to the next level by offering embossed designs. Embossing adds a tactile dimension to business cards, making them visually appealing and engaging to the touch. The raised elements create a sophisticated texture that communicates professionalism and attention to detail, leaving a memorable impression on anyone who receives a card.
The Bellevue Print Shop Experience
ZebraPrinting.com proudly operates as a Bellevue print shop, catering to both local businesses and a global clientele. The physical presence enhances the customer experience by allowing ideas and creativity to flow seamlessly into printed reality. The Bellevue print shop is a collaboration hub where clients can consult with experts, review samples, and witness the printing process firsthand.
Quality Craftsmanship and Innovation
What sets ZebraPrinting.com apart is its unwavering commitment to quality craftsmanship. Each print that emerges from their presses is a testament to their dedication to excellence. The combination of state-of-the-art printing technology and the skilled hands of experienced professionals ensures that every project meets the highest standards.
Innovation is at the heart of ZebraPrinting.com's ethos. The company consistently explores new printing techniques, materials, and finishes to offer clients diverse options. ZebraPrinting.com's portfolio captures the essence of versatility from classic elegance to modern flair.
Customer-Centric Approach
ZebraPrinting.com's success story would only be complete by highlighting its customer-centric approach. The company values every client interaction and understands that each project is unique. Whether it's a large corporate order or a small personal endeavor, ZebraPrinting.com treats every project equally. The result? Satisfied clients who return, knowing they can rely on ZebraPrinting.com to bring their visions to life.
Embracing Sustainability
In the modern business landscape, sustainability has become crucial for companies across various industries. ZebraPrinting.com proudly takes a step in the eco-friendly direction by integrating sustainable practices into its operations. From responsibly sourced paper and inks to energy-efficient printing processes, the company is committed to reducing its environmental footprint. This dedication benefits the planet and resonates with clients who prioritize environmentally conscious partners.
Collaborative Design Process
ZebraPrinting.com understands that the printing process is more than just transferring images onto paper; it's about capturing the essence of an idea and bringing it to life. The company's collaborative design process ensures that clients are actively involved in creating their prints. Whether refining the embossed details on a business card or fine-tuning a marketing collateral layout, ZebraPrinting.com fosters open communication to ensure that the final product exceeds expectations.
Versatility for Varied Needs
The world of printing caters to a diverse range of personal and professional needs. ZebraPrinting.com recognizes this diversity and offers a comprehensive range of printing services beyond embossed business cards. The company's expertise spans various formats, from brochures and flyers to banners and posters. This versatility makes ZebraPrinting.com a one-stop destination for individuals, businesses, and organizations looking to make their mark through printed materials.
Elevating Brand Identity
Brand identity is a cornerstone of business success. ZebraPrinting.com is pivotal in helping clients elevate their brand identity through print. Every business card, flyer, or promotional material the company produces becomes an extension of the client's brand. The combination of high-quality printing and innovative design ensures that these materials communicate professionalism and leave a lasting impression on recipients.
A Glimpse into the Future
As technology continues to evolve, so does the printing industry. ZebraPrinting.com keeps its finger on the pulse of emerging trends and technologies to stay ahead of the curve. From exploring augmented reality integration with printed materials to experimenting with sustainable ink alternatives, the company embraces the future while staying true to its commitment to quality.
Customer Testimonials
The true measure of a company's success lies in the words of its customers. ZebraPrinting.com boasts a collection of glowing testimonials from satisfied clients who have experienced the magic of their prints firsthand. These testimonials highlight the company's technical prowess and underscore its dedication to customer satisfaction, reliability, and professionalism.
Conclusion: Stripes of Excellence
ZebraPrinting.com has carved a niche in the dynamic printing world, embodying excellence, innovation, and customer-centered values. From their Bellevue print shop, they have redefined the art of digital printing, demonstrating that every print is an opportunity to create an indelible mark. The intricate embossing on their business cards is a tactile representation of their dedication to elevating the ordinary into the extraordinary.
With an unwavering commitment to quality, sustainability, and innovation, ZebraPrinting.com continues to be the go-to destination for individuals and businesses seeking top-tier printing solutions. As they continue to evolve and adapt to the changing landscape of printing, one thing remains constant – their dedication to delivering quality stripes in every print.